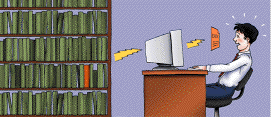 DECdocument
The Complete HTML Publishing System From Touch Technologies, Inc.
---
NEW RELEASE! DECdocument v3.3E for OpenVMS! The easiest way to create HTML output for large volumes of documentation is here!
DECdocument is the complete HTML publishing system, not just an HTML editor! While there are many tools for creating HTML output, only DECdocument is ideally suited for handling large documents and large volumes of documentation for both on-line and hardcopy output. DECdocument is easy to use and fully automates the creation of HTML output for all of your company's documentation.
Ideal for dealing with thousands of pages of literature and documentation
Single source to maintain for multiple hardcopy and on-line output formats
Make global changes to update multiple documents automatically
Ensures consistency across all documents
Writers need not be concerned with the output format - - just writing
Automatically creates and maintains the HyperText links between index, table of contents and the document itself
Automatic optimization of HTML file size for fast transfer over the Internet
Multiple Output Formats
DECdocument is very flexible and supports a wide variety of styles and output formats. This includes Bookreader and Help, for on-line documentation, and hardcopy output styles and formats, such as those meeting military specifications.

DECdocument is the ideal environment and complete publishing tool for large volumes of documentation! DECdocument can be ordered from Digital by calling DECdirect or directly from Touch Technologies, Inc.
---
---
---
For more information, a FREE technical report, or a FREE 30-day trial of TTI software -- call 800-525-2527, fax 858-566-3663, or send email to: sales@ttinet.com
---
Questions or concerns?
Contact: support@ttinet.com
Copyright © 1999 Touch Technologies, Inc.