Welcome to the Official home for the Maureen McCormick Web site and Fan Club! Celebrating over 10 years online!
Click here for a special Web site welcome from Maureen McCormick!
---
Maureen Remembers Patrick Swayze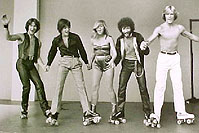 I have great memories of Patrick from "Skatetown" I admired him as a man devoted to his wife and extended family. 'Patrick, it was an honor to meet and work with you -- you are a class act, a true gentleman and you brought happiness to so many through your work.'
-Maureen McCormick
---

Dear Fan,

As you may know, my incredible brother, Denny, happens to be a person living with intellectual disabilities. Denny and I have been supporters of an incredible nonprofit very close to our hearts called Best Buddies for many years. Best Buddies is the world's largest organization dedicated to enhancing the lives of people with intellectual disabilities by providing opportunities for one-to-one friendships and integrated employment.

This year I am raising money and awareness for Best Buddies through my participation in the Audi Best Buddies Challenge: Hyannis Port on May 30. Won't you please join me by making a donation or joining my team? You can be the difference in someone's life… like my brother, Denny. Please click here for the Web site where you can learn more about this exciting event and how to register or donate!

My very best,

Maureen
Catching up with Maureen!
A lot of fans have written in to the Web site asking how Maureen is doing and what are her next projects. We caught up with Maureen and asked her some of those questions and more! To read our short interview click here.
"Being Me" from Gone Country
Maureen's "Being Me" from CMT's "Gone Country" can be seen by clicking here.
Featured Video
Currently, we are featuring an early Barbie commercial with Maureen.