Do you have a favorite photo in our collection or your own? Go through our collection and e-mail us a thumbnail of your favorite photo or send us yours and we will feature it! All e-mails are drawn once a month.
Maureen is a television icon for her role as the lovely Marcia Brady on the hit 70's sitcom "The Brady Bunch" below are pictures that fans have chosen as their favorites!





Photo Archives
WELCOME TO THE LARGEST GALLERY ON THE INTERNET FOR MAUREEN MCCORMICK PHOTOS!
Click the following links below to view the selected gallery.
Disclaimer:
All photographs in this section are copyright of their respected owners. Photos featured in this section are being used for entertainment purposes only.
If you own a photo on this page and no reference is given, or if you would like it removed please contact us ASAP.
If you wish to publish a photo in this section, please contact the proper copyright owner.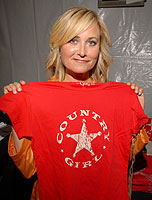 "Mo a Country Girl"
We are always adding to our collection! CLICK HERE to view the latest additions! As always, we appreciate all the photo submissions we receive!

Maureen performing on stage during CMT's "Gone Country."




Did you meet Maureen? Tell us! We will feature your photo right here!
Many fake Maureen autographs are being sold on and offline everyday. Below is a sample of Maureen's authentic autograph. Please use this before buying a photo.