AIROSHIELD & AIROVIZE

Mirrored-smoke lenses are available for $30.
Some day all bicycle helmets will have shields and visors--like motorcycle helmets do now. Today you have to race professionally or fork over some big bucks to get a shield-equipped helmet. Not to worry...AIRO-Series, Inc. has been granted a U.S. Patent on a line of helmet accessories that will launch your head into the new century! The low-profile, invisible AIROTATCHMENT system securely fastens AIROVIZE; or AIROSHIELD; to any helmet and allows for quick, single-handed removal.
The superior alternative to cycling sunglasses, AIROSHIELD is your long awaited answer to:
Bugs, road debris, rain and freezing wind in your face

Pain behind the ears caused by prolonged wearing of glasses

Sweat-distorted and limited field of vision imposed by standard eye wear

Dark lenses on overcast or twilight rides

Watering eyes or contact lens loss

Prescription glasses on bright days

Unidentified pace-line excretions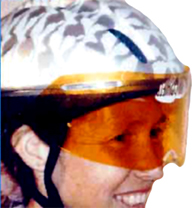 The mirrored-smoke lens (shown above) is an aluminized mylar laminate that TROXEL utilized in their $200 Radius Ti helmet worn by the 1996 U.S. Olympic Cycling Team.
Also available is a model (not pictured) with the same frontal area coverage but 1.5" less wrap around on each side. These lenses are made from the same anti-fog material that Bolle uses in their ski goggles. Clear, amber and grey-green tints are available for $20 each.
All lenses are ventilated and block 99% of UVA and UVB light. Weighing just 17 grams, they "snap" over the clear, supple AIROTATCHMENT fasteners which affix to any protective headgear (even LycraŽ-covered models) by way of 2.5 sq. inches of contact area.
---
AIROVIZE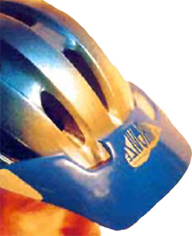 At only $12, AIROVIZE is the least expensive, lightest weight, injection molded visor on the market. Its longer bill provides more sun shading than "original equipment" visors. Weighing about an ounce, it appears integral to any helmet, assists cooling by feeding air toward the helmet's top vents, and has channels that duct air so that "headwinds" don't cause helmet liftoff. 3M's Scotchlite™ reflective side markers provide additional (night) rider safety. Available in semi-translucent smoke, white and blue opaque colors.
AIROVIZE eliminates:
Sun-damaging skin exposure

Wearing an uncomfortable cap under your helmet

Squinting into the sun and off-road branches hitting your face

Problems inherent with "hook and loop"-fastened visors
---
Get a "head" start on your competition...Enhance your helmet for high-tech performance today!
Only available directly from Airo-Series, Inc. VISA or MasterCard orders can be executed by calling (619) 334-7222. Check payment orders should be sent to 10662 Strathmore Drive, Santee, CA 92071. Add $4 for handling and shipping via 1st class US Mail. California residents please add sales tax.
---