Meeting Maureen - "Here's The Story" Book Tour
Submit your story and photo to lparker72116@aol.com
From Jennifer: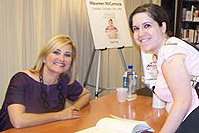 It was on a Tuesday so I was at work, thankfully it was on my lunch break. I walked over to B&N and bought the book then waited on the line, when I got there, there were probably about 40 people in front of me. B&N was letting us upstairs a few people at a time. It took a while for us to get up there.

When it was my turn, I handed the book to the woman who worked there who then handed it to Maureen. There was also a man there who was taking pictures for everyone so I gave him my camera.

I told Maureen that I enjoyed the Brady Bunch for many years, but that I was a fan of her country music and I had hoped she'd do another album. She was so nice and thanked me and she said she hopes to do another album in the future. We then took the picture and I got my book and left. Of course after I said bye to Maureen. Definitely an experience to remember.

From Tony: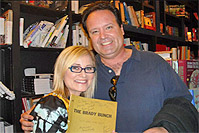 I'm an original fan of the BB, and remember watching it after my boy scout meetings on Friday nights on ABC. Of course as a 10 year old rapidly approaching puberty- Maureen McCormick was in that small circle of TV land crush's (Julie Newmar & Tina Louise & Susan Dey were the others).

One of my passions is to collect one original script from my favorite all-time shows. I managed to win the second season episode script " Our Son, the Man" 5 years ago on E-bay. Was lucky to have Sherwood Schwartz, Flo Henderson, Chris Knight, Barry Williams & Susan Olsen to sign it. Never thought I'd have a chance to get my favorite Brady- Maureen McCormick's signature to grace the cover- That all changed when I found out she was signing her new book "Here's the story" at Book Soup in west Hollywood.

I wasn't sure if she was signing additional material, but I had to go anyway. I arrived with my friend Doug about 40 minutes early. We were number 62 & 63 already. It took about 45 minutes to get our opportunity to meet Mo- but was worth every minute. I've been to signings where the author barely, or hardly looks at you as they shove the line onward. This was by far one of the best signings ever. Not only was Maureen sincere, friendly and warm- she took several minutes with you and made sure she signed everything just the way you wanted. My buddy Doug even got her to sign " Marcia, Marcia, Marcia" ! Everyone was given the royal treatment with a photo op also. It was very magical indeed. One of my friends had Davy Jones at his house several miles away, and almost talked Davy into going- alas Davy was 'under the weather' and wasn't up to it. His loss.
Maureen was quite surprised to see my original Brady Bunch script and graciously signed on the top of the cover (the spot I saved for her). I shook her husband's Michael hand on the way out the door and said "congrats- you have a good wife back there".

Alas- it was back to reality today, but I'll never forget meeting Maureen.

From Zeb: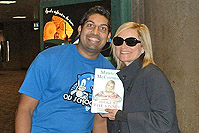 I couldn't make the book signing, but I was at the airport waiting for Maureen with her book in my hands.
She was super nice and really really cool. She wrote to Zeb Love Maureen McCormick and took a great picture with me.
thx Maureen
From Murray: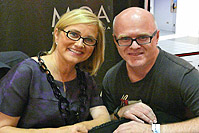 I came down from Canada to Minneapolis for the book tour to have the opportunity
to meet Maureen. Despite being nervous, I became at ease almost immediately
because of how friendly and open she was, and she seemed to sincerely appreciate
the effort I'd made in coming some distance to meet her, after first wanting to
some 35 years ago.

I felt I really had to thank her for writing the book, and she asked me why that
was. I told her it was because the experiences she described had a general similarity to my own while growing up - anxiety, depression, addiction and family dysfunction issues. I said that her making an account of these experiences served to resonate with me, as did the John scripture reference at the front of the book, about the truth being able to set one free. We shared a brief connection in agreeing that this was the essential point, to share the truth about your life, like she had in this book.

She also seemed to appreciate my saying that it was good for the fans, who know
her as Marcia, to get a clear picture of who she was apart from that character.
It was a pleasure to shake her hand and say how good it was to meet her, and to
feel her warmly and sincerely return the sentiment.

I had trouble getting a good picture taken with Maureen, since I was second in
line and they hadn't gotten things quite in order yet. I waited until the end of
the 2 hours to try and get a retake, and was finally able to get a good picture.
I was most grateful to Maureen and the organizer for this, and apologized to
Maureen for the extra trouble, but she was very gracious about it. So I was
among the first to see her, and turned out to also be the very last, then
thanked her for coming.

I was really struck by how real Maureen became for me this day - she had a
friendly and relaxed presence, but I also was beginning to see through the
book's account that there was a person who'd been through extremely difficult
experiences, and it is this which gave me mixed feelings of sadness and cause
for deep reflection, about Maureen's life and what I could learn about myself
from the telling of it.